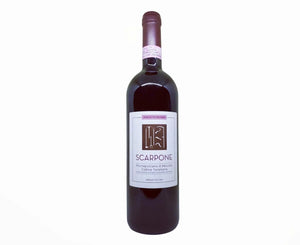 Scarpone Montepulciano d'Abruzzo DOCG 2016 "Tribut to Vincenzo"
At an elevation of 200 meters (600') above sea level, in 2001 about 5 acres of vines were planted, all from local clones of the traditional Montepulciano grape. This region, called the "Colline Teramane" after the nearby mountain town of Teramo, is aknowledged to produce the finest wine in the region. It is the first and only zone in the Abruzzo to be given the Italian government's highest quality ranking of DOCG (Denominazione di Origine Controllata e Garantita).

This special cuvée, made by 100% Montepulciano D'Abruzzo, shows an intense bouquet of blackberry, blueberry and blackcurrant, with hints of red pepper and liquorice, and a balsamic nuance. The rich, stylish palate shows a long finish.