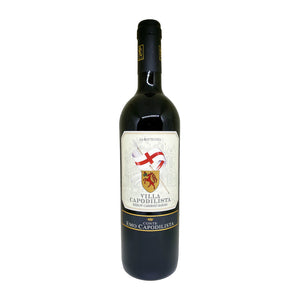 La Montecchia Villa Capodilista (Merlot Blend) DOP 2015
In the Veneto region, the family of Count Giordano Emo Capitolista goes back to the 13th Century. On the same latitude as Bordeaux in France, he has been producing world-class wines based on Bordeaux varietals planted in the 19th C.
This is his top-of-the-line "signature wine", a field blend of 60% Merlot, 30% Cabernet and 7% Raboso, all from a single hillside vineyard. It is aged in French oak and given extra bottle age in the cellar.
Deep ruby red in color, it has aromas of blackberries and plums with hints of Asian spices. Full-bodied and complex, it has developed a long smooth finish.
Superb with roast lamb and other red meats. Locally, it is favored with rich stews served over polenta.