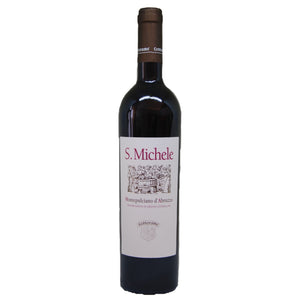 Centorame Montepulciano d'Abruzzo DOC 2018
Started in 1987, the Azienda Agricola Centorame is situated in Casoli d'Atri about 5 km from the sea, at an altitude of 180 meters. In the first years, 90 vines were planted of which the majority were Montepulciano. In 2002, Lamberto Vannucci decided to modernize the operation and soon doubled the capacity of the vineyards. He continues to grow the property with the practice of estate-grown wines that come from native vines.
 Montepulciano, the favorite local grape of the Abruzzo, is mostly grown on the coastal plains of the Adriatic by large-scale wineries to make simple, quaffable hearty red wine. When made in low-yielding mountain vineyards by quality-conscious small producers like this one, it shows how complex and satisfying this truly noble grape can be.
 Centorame Montepulciano d'Abruzzo has deep, rich plummy fruit tannins that are firm but soft. It pairs well with grilled and roast lamb; pasta with meatballs and hearty meat sauces; also delicious with aged pecorino cheeses.