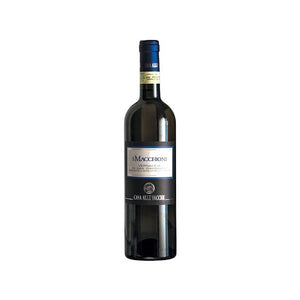 Casa Alle Vacche Vernaccia di San Gimignano I Macchioni DOCG 2021
On the slopes northeast of the picturesque Tuscan hill-town of San Gimignano, lies the town of Pancole which is considered to be among the best grape-growing areas in Italy.  Casa alle Vacche winery and vineyards are found in this zone.  The estate has been in the Ciappi family for several generations, and young Fernando and Lorenzo Ciappi, with the aid of consulting enologist Luigino Casagrande, combine traditional production techniques with modern viticultural practices to produce exemplary Vernaccias, Chianti Colli Senesi and Vin Santo. 
 Vernaccia I Macchioni is produced from the estate's special selection and best vineyard sites.  This wine is characterized by its pale straw yellow color, almond scents and medium body.  It stands out due to its elegant taste.  Extended aging on lees has given the wine an uncommon richness and length, enabling it to accompany such flavorful dishes as Tuscan roasted chicken with herbs or shellfish.