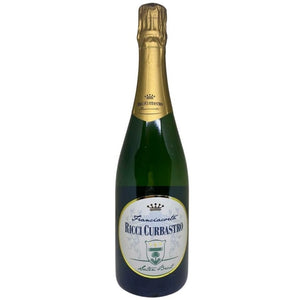 Ricci curbastro Franciacorta Saten Brut
Producer's notes: Awarded for six consecutive years, from 2001 to 2006, with the Cinque Grappoli by the Italian Sommelier Association (AIS), and with Tre Bicchieri from Gambero Rosso Guide, the Satèn Brut is the ultimate expression of typicality and harmony of Franciacorta DOCG.
Grapes: 100% Chardonnay fermented in oak barrels.
Production cycle: The bottles are stacked for at least 40 months After the disgorgement stage, with the addition of a very dry liqueur de dosage (7g/l), the Franciacorta undergoes another fining period in the wine cellar for several months.
Nose: to the nose, it presents a substantial presence of ripe, thick, and dense fruity notes that mix with spicy aromas and yeasts, which are reminiscent of toasty, almond notes.

Palate: of great elegance, it presents again to the palate the same olfactory sensations sustained by body and structure, enlivened by a slight acidity.