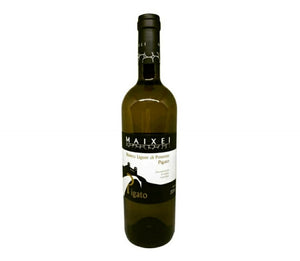 Producer notes. Maixei is a coop that was set up in 1978 to bring together producers whose vineyards are scattered over the Liguria region. The term maixei [/maiƷεi/] is used in local dialect to refer to dry stone walls which support the strips of land used for the cultivation of vineyards, olive groves, flowers and vegetables. 
Made from a local white grape that only grows in Liguria, Pigato is a flagship wine of Ligurian winemaking. The label features Castle Doria in golden yellow, like the straw yellow tinges of the wine, emphasised by a white line that is a stylised image of the humpback bridge, on a white background.
Dry white wine with straw yellow colour. It has an intense fruity aroma, with hints of peach and apricot, with notes of almond and a distinctly citrussy taste, with notes of grapefruit. It is an elegant dry wine with a fresh taste and good balance.