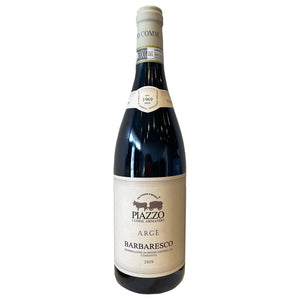 Piazzo Barbaresco DOCG 'ARGÈ' 2018
This wine tells the story of Armando and Gemma, and so their names come together to identify the wine from which everything started: our traditional Barbaresco.

It contains the strength of the Piazzo spouses, the balance of a couple who is divided between family and work as well as the longevity guaranteed by solid unions, made up of compromises to harmonize different characters.

Barbaresco Argè is indeed the result of the blend of various vineyards located between San Rocco Seno d'Elvio and Treiso, two areas so close but different, joined in a harmonious sip which maintains the structure typical of Barbaresco.
Fruity notes of red berries, cherries in alcohol and jam; flowery hints of withered violets and spices.
Warm and dry, quite tannic and long aromatic finish.
Goes well with both pasta dishes and well-structured, complex mains.