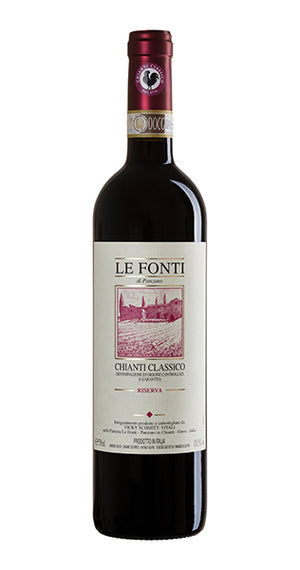 Le Fonti Chianti Classico Riserva 2017
Halfway between Florence and Siena, in the heart of the Chianti Classico region, lies the small village of Panzano.  Just below the village church, at 450 m above sea level, is the Fattoria Le Fonti.  Since 1994, the Schmitt-Vitali family has replanted all of the vineyards, taking great care in selecting the right type of plant with the correct root stock; and renovated the cellars, incorporating the latest technology to help them make better and longer lasting wines.  The fattoria is small and completely family-run, employing only a couple of outside workers, and they depend on family manpower and taste from the harvest to the final blend.  For expert consultation and knowledge, they call on the consultant enologist Dr. Stefano Chioccioli.  Le Fonti's small size and dedicated family involvement allow for meticulous care of the vineyard, ensuring that only the best fruits reach the cellar and only the finest blends get bottled in the end.
Le Fonti Chianti Classico Riserva is characterized by a deep ruby red color and aromas of black cherry, blackberry, caramel cream, and cinnamon spice.  It has a long, black fruit finish, good fresh acid, and cat's tongue tannins.