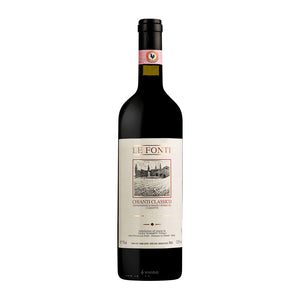 Le Fonti Chianti Classico 2019
Halfway between Florence and Sienna, in the heart of the Chianti Classico region, the village of Panzano is surrounded by vineyards which are considered the finest "terroir" for growing Sangiovese grapes.
There the Schmitt-Vitali family has organically farmed 23 acres of Sangiovese grapes, along with small plots of Cabernet Sauvignon and Merlot for blending.
2016 was one of their finest recent vintages. Aged for 12 months in French oak barrels, its black cherry aromas have developed spicy overtones, and it has developed a long smooth finish.
Superb with grilled and roast meats and game, it is equally fine with simple tomato-sauced pasta and bean dishes.