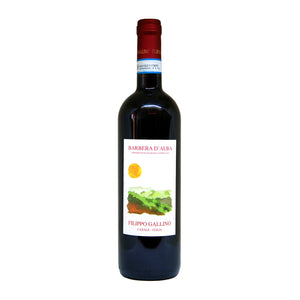 Filippo Gallino Barbera d'Alba 2020
Across the Tanaro River from the Barolo and Barbaresco districts, Filippo and his son Gianni Gallino have been pioneers in establishing the high quality of the wines of the Roero district.
Barbera is the favorite every-day wine in all of Piedmont. The earliest grape to ripen in the Fall, it produces a wine with earthy flavors, red berry aromas and bright lively acidity.
"You say tomatoes, I say Barbera" wrote one prominent Food Network expert.
Barbera stands up to and mellows the acidity of tomatoes, making it the ideal pairing with tomato-sauced pasta and pizza. It is also very good with grilled sausages and hamburgers.